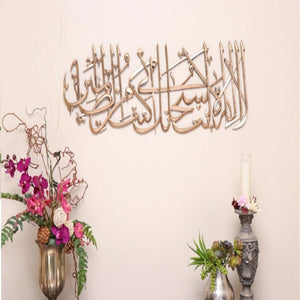 Tasbih-e-Yunus Calligraphy
Regular price 18,999.00 14,999.00 Sale
لَا اِلٰہَ اِلَّا اَنْتَ سُبْحَانَکَ اِنِّیْ کُنْتُ مِنَ الظَّالِمِیْنَ
Product Details:
'There is none worthy of Worship besides You, You are far exalted and above all weaknesses, Surely, I' am from among the wrongdoers'

This is the supplication through which Yunus AS called Allah from within three darkness.

Also known as the Ayat e Kareema, it was recited by Hazrat Yonus (A.S) when he was in the belly of the whale.
Product Dimensions:
Product Material Type:
Premium-Quality Wood Build
Product Package Includes:
1 * Tasbih-e-Yunus Calligraphy
NOTE:
The Product is Manufactured with Top-Notch

 

Materials at our own Unit in Pakistan
The Product is Order To Make and the Delivery of this Product may Take 10 to 15 Days
You Need To Assemble The Product when it will be Delivered To You.