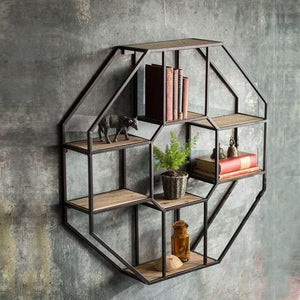 Wall-Mounted "Octic" Metal Storage Frame
Regular price 9,000.00 7,999.00 Sale
Product Details:
Their geometric shape is pleasing to the eye and adds a beautiful touch of warmth to make your space feel cozy.
Used alone, they make a great and simple feature. Used together, you can create a honeycomb shelving piece.
 Decorate the walls, place the ornaments in the racks, decorate the walls with flowers, books, and crafts, and make your room more clean and stylish. Perfect for adding character to any room and for displaying your small keepsakes.
Product Material Type:
Made of Premium Iron to ensure Strong and Durable
The racks are built with High-Quality Wood
Product Dimensions:
Product Package Includes:
1 * Wall-Mounted Hexagonal Metal Storage Frame
NOTE:
The Product is Manufactured with Top-Notch

 

Materials at our own Unit in Pakistan